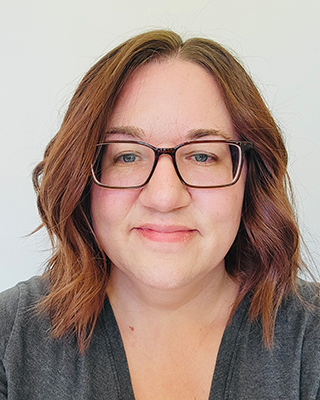 Jennifer Gratzfeld
Registered Social Worker, OCSWSSW
---
I am a Registered Social Worker (OCSWSSW). I completed my university studies in 2012. Since then, I have worked with individuals who have experienced trauma, mental health challenges and other life stressors. Before moving into private practice, I worked in an outpatient mental health service offering individual, family and group counselling and therapy for more than 15 years.
I am always eager to continue training in different therapeutic modalities and clinical interventions. My therapy and mental health counselling approach is eclectic, playful and trauma informed. I am inspired by peoples' stories and the moments that lead us toward embracing our authentic selves; our identities and all of their colours and parts. I endeavour to support my clients to learn to "dance in the rain." I believe that there is value in noticing and leaning into moments of calm, neutrality, pleasure or joy, even during times when emotional and interpersonal storms are dominating our lives.
I have developed a passion for working with the 2SLGBTQIA+ communities offering affirming mental health therapy and support. I value inclusivity and diversity. I ensure that I do my part to provide an affirming, embracing and celebratory mental health counselling and therapy environment for folx in these communities.
As a therapist, I support and offer online therapy and counselling to clients in polyamorous, and ethically non-monogamous relationships, as well as, to those interested in exploring their sexual, gender and relationship diversity, including sex-therapy approaches. I am committed to supporting friends and families who may be experiencing difficulty in their relationships with those in the 2SLGBTQIA+ communities.
In my personal life, I am a bi-sexual, cisgender woman (she/her pronouns) who is part of a wonderful polyamorous triad. We are cohabitating and co-parenting three amazing kiddos. I have the beautiful and challenging opportunity to be a bonus mom. We co-create a family life navigating parenting, relationships, and interacting with the world around us with humour, strengths and compassion. Our home is rounded out with a Shorkie dog named Wicket and a Russian Blue cat named Pushkin.
Friendships are incredibly important to me. I am a strong believer in the idea that we choose our family. I spend my spare time reading, baking, and cherishing moments of utter silence to recharge my introvert battery. I take with an open heart every opportunity I have to create, play and giggle.
Start living a more mindful life today.
Sign up below to receive the latest news from Margarita Rabinovich!